Vehicle Keys
Made On Location
Locksmith specializing in VEHICLE SECURITY TRANSPONDER KEYS :
Audi - BMW - Cadillac - Infiniti - Lexus - Mercedes - and More!
This Website Available by Teeter Web & Graphic Design
✔ Keys Made
✔ Transponder Keys
✔ Keys Duplicated
✔ Factory Remotes
✔ Keyless Entry
✔ New Lock Installation
✔ Re-keying Ignition Replacement

✔ Lock Change
✔ Repair Locks
✔ Lock Re-key
✔ Master Re-key
✔ High Security Keys
. . . and More !

If you are in need of Locksmith service give Your Name Lock a call at 864-000-0000. We offer a 24-Hour Lock service with a average 15 minutes Fast Response Time in and around the Greenville Spartanburg County area.

We use the latest technology to get the job done. Your Name Lock specializes in on-site commercial, residential and automobile locksmith services.

Need a Transponder Key? . . . We provide onsite locksmith service for individual or dealers.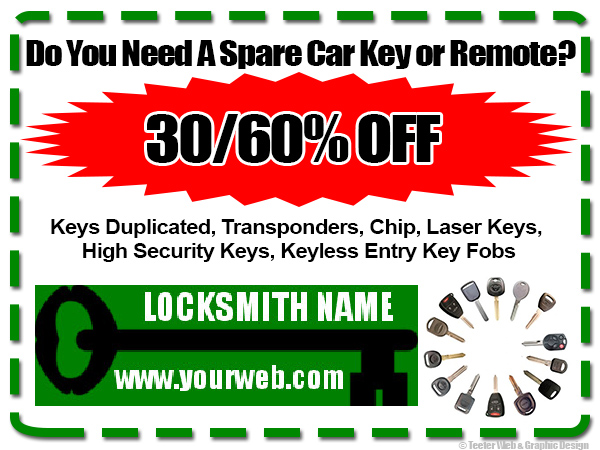 Your Business Name

call 24/7 864-000-0000
All info is believed to be accurate. Subject to change without notice. All liability is expressly disclaimed.
If you believe that any content on this site inflicts copyright infringement, and you are the copyright holder or agent ,
email us all necessary information to prove this infringement. We will remove this content if your information is valid.
Copyright © - Website by